PFLUGERVILLE COMMUNITY DEVELOPMENT RECEIVES TOP HONORS BY BUSINESS FACILITIES MAGAZINE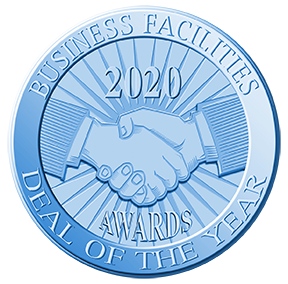 21 Jan 2021
Press Release, Alerts
PFLUGERVILLE, Texas (January 21, 2021) — Pflugerville Community Development Corporation (PCDC) has received an Honorable Mention Award in the Business Facilities Magazine (BF) 2020 Deal of the Year competition for recruiting the Amazon bulk fulfillment center, a 3.8MM square foot facility bringing 1,000 jobs to the community and $250MM in capital investment. The facility is expected to open in August 2021.
"To be recognized as one of the top 12 projects in 2020 by Business Facilities, a national publication serving corporate site selectors for over 50-years, in one of the most competitive contests in the country, is huge," said Amy Madison, PCDC Executive Director. "It is equally humbling to be listed with Austin Chamber, our regional partner, who brought home the Gold Medal as Deal of the Year for recruiting the Tesla Gigafactory plant, located less than 20 miles from Pflugerville. It is truly a great time to be in the Austin region."
This year, BF magazine awarded three medals of gold, silver, and bronze and nine honorable mentions. Three of the twelve honorees were Texas projects. Besides Austin and Pflugerville, one other Texas city, Irving-Las Colinas, received an honorable mention award for their project with Microsoft, according to the BF website.
BF's 2020 Deal of the Year judges were Howard Silverman, President, and CEO, The CAI Global Group; Philip Anderson, President, and CEO, P.W. Anderson & Partners; David Hickey, Managing Director, Hickey & Associates; Angelos Angelou, President of Angelou Economics; and Glenn Mair, Director, MMK Consulting.
View PDF version of the release HERE.
More Topics
PFLUGERVILLE, Texas (January 22, 2021) — The Pflugerville Community Development Corporation (PCDC) Board of Directors convened its first meeting of the year on Jan. 20, elected officers, and welcomed newly-appointed PCDC board members to the seven-member board following action by the Pflugerville City Council at the Dec. 16 regular city...
Trade & Industry Development Magazine announced the Pflugerville Community Development Corporation has been awarded the 2021 Community Impact Award for its work on the recruitment of the Amazon Bulk Fulfillment Center to the city of Pflugerville.  "This is the first time Pflugerville has received this distinguished award, and we...