EVS Metal to remain in Pflugerville, build new fabrication factory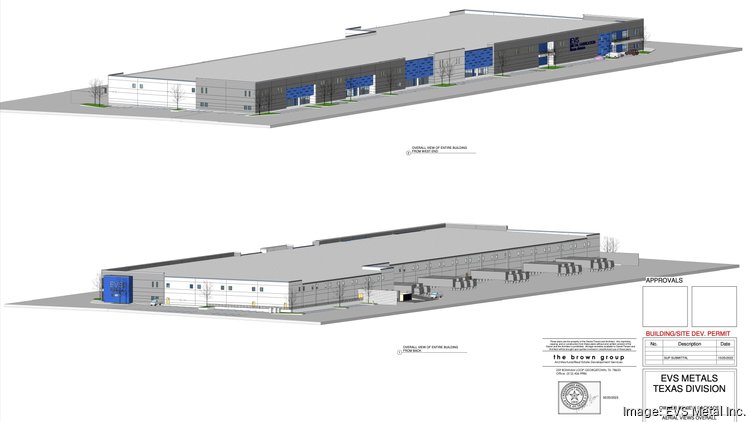 By: Justin Sayers - Staff Writer, Austin Business Journal
EVS Metal's last year was a good one, with revenue increasing 27%. But Vice President of Operations Robert Evans said they could have done a lot more if they had more space at their Pflugerville metal fabrication factory.
That's partly why the New Jersey-based company — which also does welding, laser cutting, powder coating and assembly for various industries, including aerospace and semiconductors — is planning a move into a 175,000-square-foot facility in the One Thirty Business Park at 15825 Impact Way in Pflugerville.
That means the company, which has been in a 42,000-square-foot building about 3 miles away in Pflugerville since 2001, will remain in the Austin suburb after a search that included both local and out-of-state options.
Evans said revenue at the factory was $15.5 million in the company's 2021 fiscal year and $19.7 million in fiscal 2022, which he partly attributed to high material pricing.
"We could have done more than $20 million last year if I had more space," Evans said. "We were stacked from wall to wall, floor to ceiling, with inventory, with work in progress. We had trouble just getting more out the door, so in order for us to grow, we need more space."
Pflugerville City Council voted June 27 to approve the Pflugerville Community Development Corp. selling 14.5 acres in the 167-acre business park to Electronic Vision Systems Inc.
While the sale still hasn't closed, Evans said the goal is to start construction on the 175,000-square-foot warehouse and manufacturing building in August and finish work in 22 months. EVS plans to take up between 60,000 and 80,000 square feet of that space, and lease out the rest to provide protection from the ups and downs of the metal industry.
While EVS leaders cast a wide search net, Evans said they settled on the Pflugerville space because it meant they could retain their employee base in Central Texas, which numbers 89. EVS aims to "grow exponentially" and eclipse 100 employees within six months of opening the new building.
"Because it was only a few miles up the road, I was going to be able to retain all my employees," Evans said. "It's one thing off the checklist that I don't have to worry about it. It's allowed me to be able to support my customers. ... It's been a relief knowing that it is finally going through."
The project similarly checks a lot of boxes for the city of Pflugerville, located just northeast of Austin with a population of about 66,000. PCDC Executive Director Amy Madison said the deal with EVS moves her organization closer to filling out its 167-acre business park; other tenants include REE Automotive Ltd. (Nasdaq: REE) and MoboTrex Inc.
Keeping EVS in the city also means retaining a supplier that makes metal for many sectors.
"As we sit here between two, three, four mega projects in our region, it's extremely important that the suppliers have a place to go and that they can grow and expand," Madison said. "The fact that we could be able to do that with a local company really adds dimension. Those mega projects must have reliable suppliers and vendors in the area and those companies need to be able to grow as well. That's what this project has done."
It also has sentimental value for PCDC. Madison said 10 years ago, a 24-acre tract that includes the future EVS site was deemed undevelopable. Her organization has been able to bring centralized draining and wet and dry utilities to the land, flipping its prospects. Those efforts were actually honored earlier this year by Business Facilities Magazine, before EVS was identified as the land purchaser.
"With this project, we were not only able to find a spot for them but to get a road back there and develop land that had previously been considered undevelopable," Madison said.
EVS History in Pflugerville
EVS opened a 30,000-square-foot facility at 400 S. Heatherwilde Blvd. in Pflugerville in 2001. In 2009, the company added 12,000 square feet to reach its current footprint.
The sale process has been going on for about 18 months.
"They were going to have to move out of our community if we couldn't find a solution for them. So this land sale actually came just in the nick of time," she said. "The PCDC was very dedicated to bringing manufacturing and keeping manufacturing here, but particularly with the growth with the semiconductor industry, this project became extremely important."
In addition to retaining workers, it made sense to stay in Pflugerville because of a strong track record of working with the city, access to roads and community involvement including hundreds of hours of volunteering per year.
The biggest concern, Evans said, is "people people people" — finding enough skilled workers.
Evans declined to name specific customers but said EVS mostly works in aftermarket automotive and aerospace, with some semiconductor, medical, industrial and telecommunications clients. He said an "eclectic mix of customers" has been key to his company's success.
Taking care of the backyard
Once closed, the deal will move the Pflugerville CDC closer to filling out its first industrial park. Accounting for all the recent additions and pending sales, the facility has 8.8 acres remaining, along with pieces of two tracts that have room remaining to develop from Exaco Trading Co. and the Courtyard Marriott hotel.
The EVS deal shows that Madison's organization is committed to helping existing businesses. She said while recruiting new companies is always a big plus, taking care of existing companies is key — they are the ones that other businesses reach out to when consider locating in a new place.
"Your backyard is what you have to take care of first in economic development," she said. "In order to really recruit, you have to have a real good retention program, meaning that the companies in your backyard are first and foremost on your mind."
View the article at Austin Business Journal HERE