NEW BOARD MEMBERS APPOINTED; OFFICERS ELECTED TO PFLUGERVILLE COMMUNITY DEVELOPMENT CORP. BOARD OF DIRECTORS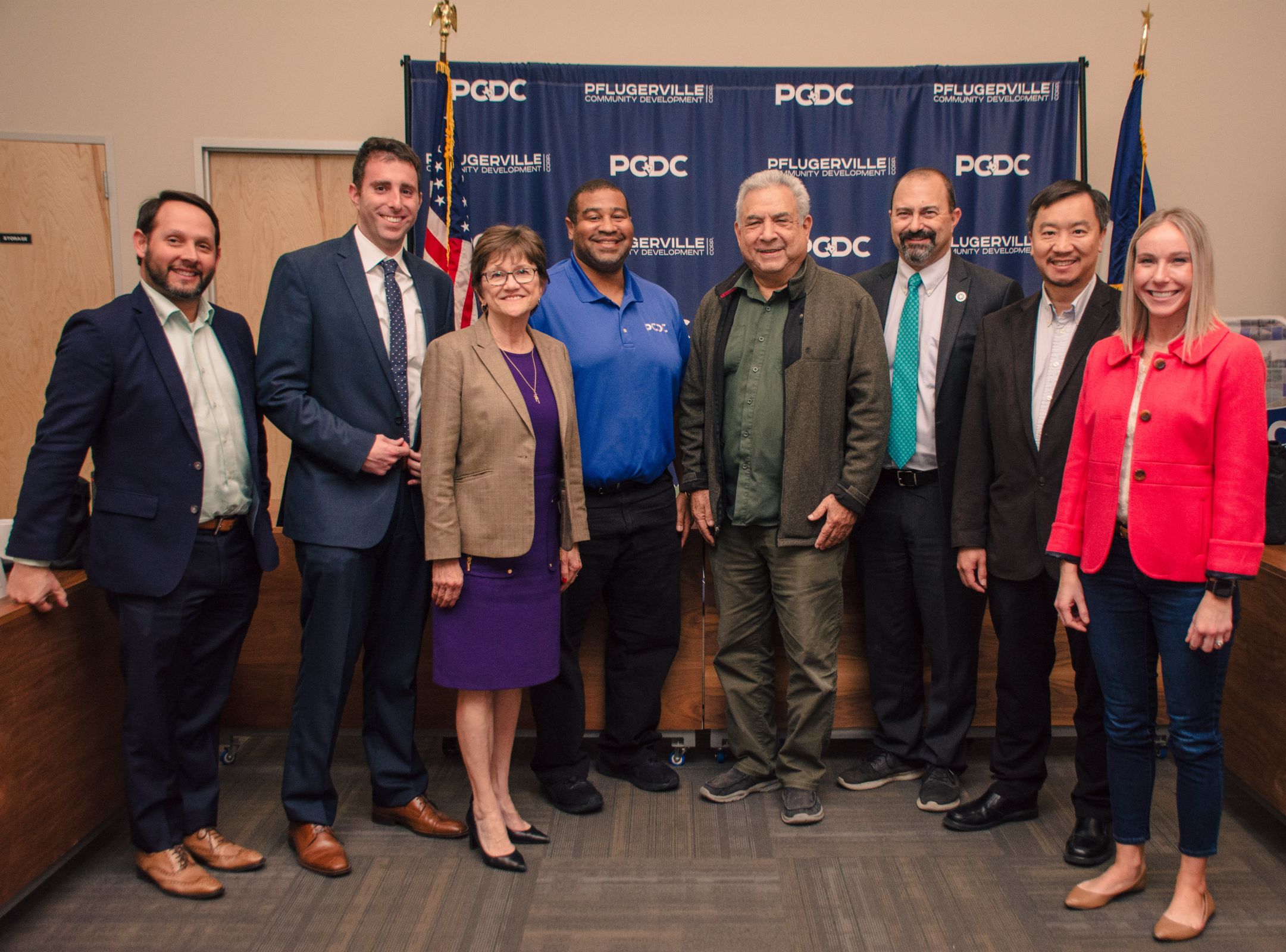 19 Jan 2023
Press Release, News
PFLUGERVILLE, Texas (January 19, 2023) — The Pflugerville Community Development Corporation (PCDC) Board of Directors convened its first meeting of the year on Jan. 18, elected officers, and welcomed two newly-appointed PCDC board members to the seven-member board following action by the Pflugerville City Council during two city council meetings in December and January.
The PCDC Board's new appointments include Adam Rosenfield and Samantha Pisik who are serving their first two-year term, and Anthony Nguyen and Jim McDonald who were reappointed to serve a second two-year term. The Board also recognized the service of two outgoing board members: Anita Husen, who served two years, and outgoing PCDC President George Vande Werken who served three years.
The new PCDC 2023 officers elected are Dennis Spencer, president; Samantha Pisik, vice president; Anthony Nguyen, secretary, and Jonathan Kamenicky, treasurer. The PCDC Board of Director members serve two-year terms; officers serve one-year terms.
"The City Council annually appoints residents to serve on the PCDC Board to bring energy and skill sets that advance the PCDC organizational goals and drive policy decisions," said Amy Madison, PCDC Executive Director. "We appreciate the leadership provided by our outgoing members, George and Anita during their board term, and we extend a warm welcome to Adam Rosenfield and Samantha Pisik as they begin their first year on the Board of Directors."
Board member terms and officers elected at the Jan. 18 meeting are as follows:
● Place 1 – Victor Gonzales – Term: Jan. 1, 2022, to Dec. 31, 2023
● Place 2 – Jim McDonald – Term: Jan. 1, 2023, to Dec. 31, 2024
● Place 3 – Dennis Spencer, President – Term: Jan. 1, 2022, to Dec. 31, 2023
● Place 4 – Anthony Nguyen, Secretary – Term: Jan. 1, 2023, to Dec. 31, 2024
● Place 5 – Jonathan Kamenicky, Treasurer – Term: Jan. 1, 2022, to Dec. 31, 2023
● Place 6 – Adam Rosenfield – Term: Jan. 1, 2023, to Dec. 31, 2024
● Place 7 – Samantha Pisik, Vice President – Term: Jan. 1, 2023, to Dec. 31, 2024
View PDF version of release HERE