Speed Racers
Business execs in Austin area say that if you want to grow fast, exit at Pflugerville.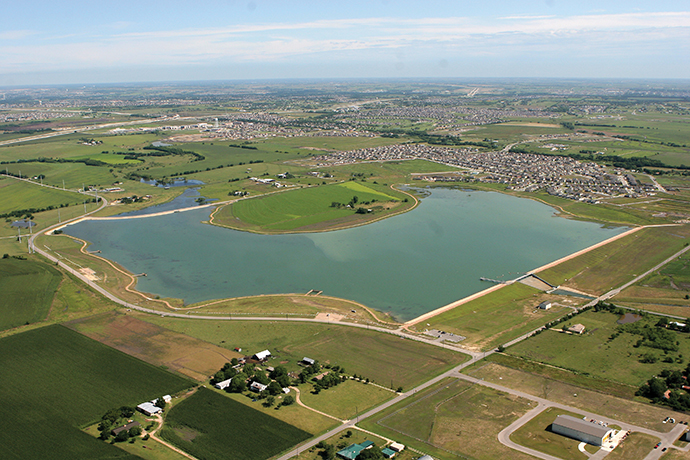 Pflugerville is a rapidly growing city in Travis County, Texas. The population of this Austin suburb was 46,936 at the 2010 census and is about 62,000 now.
Photos courtesy of Pflugerville Community Development Corp.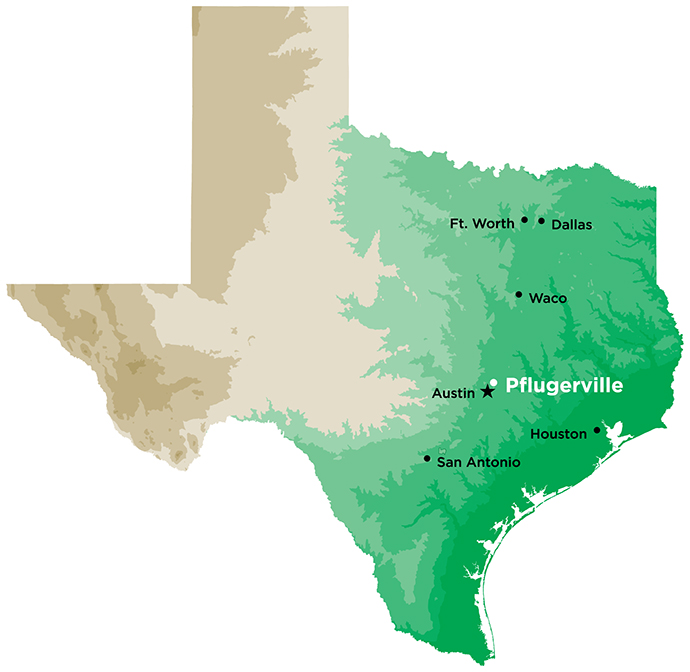 In a world where the richest man on earth runs an e-commerce logistics company, it's not surprising that locations that maximize speed to market tend to grow the fastest.
Exhibit A is Pflugerville, a thriving boomtown just minutes from downtown Austin in the heart of the tech capital known as Central Texas.
If South by Southwest helped put Austin on the map as a hub of music and technology, then it's safe to say that Pflugerville has become the favorite suburban address in the state capital region for rapidly growing firms that want to reach global markets.
Move over, Jeff Bezos and Amazon. You're not the only one with the horsepower to drive in the fast lane.
In 62,000-resident Pflugerville just off I-35 on Austin's booming northeast side, businesses that want to capitalize on speed are choosing to expand in a city that's firing on all cylinders.
"With our proximity to major arteries, we can access the city of Austin and surrounding areas very efficiently and effectively from right here in Pflugerville," says Josh Rosenburg, CEO of Accent Foods, a convenience services company that supplies refreshments to workplaces and recreation sites in 10 states and the District of Columbia. "Being located here also helps our recruitment. A majority of our 104 employees live within five miles of our plant."
Located in the center of I-35, U.S. 290, and State Highways 130 and 45, Pflugerville maximizes business connectivity in multiple ways. Access to four airports — Austin-Bergstrom International, Austin Executive, Taylor Municipal and Georgetown Municipal — doesn't hurt either.
---
"Being located here helps our recruitment. A majority of our 104 employees live within five miles of our plant."
— Josh Rosenburg, CEO, Accent Foods
---
"We are an asset to Austin and they are an asset to us," says Amy Madison, executive director of the Pflugerville Community Development Corp., whose motto is "We're Not Austin. But We're Close."
"As Austin gets more expensive, we become an even more attractive relocation option for businesses and people," Madison says. "Some 24,000 people leave Pflugerville every day to go to work in either Austin or Round Rock. But that is changing quickly as more employers choose Pflugerville as their permanent business home."
Mantra: Putting Business Pfirst
The 11th-fastest growing community in America in 2016, Pflugerville offers businesses a host of benefits: Foreign Trade Zone 183; deregulated electric rates; triple freeport tax exemptions; a highly skilled workforce where 67 percent of adults have at least some college education; and large-scale sites that are shovel-ready for development.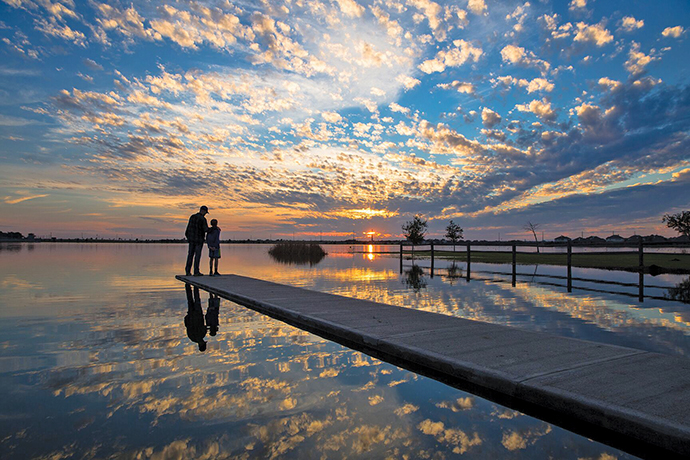 Construction of the 180-acre Lake Pflugerville reservoir began in 2005 and was completed in 2006.
"Business Pfirst is our outreach program for business retention and expansion," Madison adds. "We visit over 100 local companies a year and ask them what we can do to help them grow. They tell us, and then we get to work doing just that."
Business Pfirst is not just a play on words. The Pflugerville CDC assists companies with workforce training needs; tax and regulatory issues; facility and operational needs; and transportation and logistical requirements.
"If you have a business in Pflugerville, we want to hear from you," says Madison.
Rosenburg backs that up. "Local officials have been great supporters of ours," he notes. "They have helped us with resources for funding and overall outreach. We're in the process of building a new headquarters and regional distribution office that will take us from 27,000 sq. ft. to 65,000 sq. ft. by mid-year 2018. We continue to grow in Pflugerville; we want to be a strong citizen in the community."
---
"This seems to be the place that everyone wants to come to. It is getting a lot of looks from people all over the country."
— Jason Oldham, Vice President of Operations, MW Builders
---
Loyalty like that is hard to measure, but it's not uncommon in Pflugerville. At Medway Plastics, Vice President Gerald Hutchinson says the support he received from the PCDC is a big reason why he and his firm are so committed to the city.
"Our company is based in Long Beach, California. We had an opportunity to expand in Texas and I chose Austin for a number of reasons," Hutchinson says. "We were introduced to the city and the Pflugerville CDC. They helped us find our current 50,000-sq.-ft. facility on 12 acres, and we've been very happy with our move. We employ 25 people now, and we plan to grow our business here. We got the facility in September 2015 and we were operational by April 2016. Their speed in helping us become operational so quickly was exceptional."
German Firm Says 'Ja' to Pflugerville
Matt Conner, vice president of service for EOS North America, a German-based company that sells and supports industrial 3D printers, concurs.
"We reached out to the PCDC and worked with them for about a year to find a location in Pflugerville," says Conner. "We searched from Round Rock to Georgetown and Austin. By finding this site in Pflugerville just 45 minutes from our Temple office, we landed in the perfect spot. We now occupy about 54,000 sq. ft. and we'll celebrate our first two years here in March. We employ 55 people in Pflugerville and plan to keep growing right here."
The local business environment was very welcoming of a German company, notes Conner. "We have people all over the U.S. and Canada, but we love it here," he says. "If you hire people from outside the state, the Austin area is a great selling point for relocation. Everyone likes the vibe here. You can get to downtown or Georgetown in 20 minutes. This is a central location."
Jason Oldham, vice president of operations for MW Builders, says, "We are a nationwide contractor that does business all over the country and we are moving to Pflugerville. We selected Pflugerville because we wanted to recruit and retain talent, and this location provided proximity to Austin where we believe we can attract and retain the talent we need. That will help our company substantially down the road."
The new 20,000-sq.-ft. facility in Pflugerville will house "all of our operations and estimating for the work we do in Texas," says Oldham. "Thirty employees will be based in Pflugerville and we expect that number to grow."
Besides proximity to Austin, Oldham says MW Builders chose Pflugerville because of its location on the 130 Tollway and quick access to the Austin Airport. "We see Pflugerville as an expanding community. We did a couple of projects here and we really enjoyed working with the people in this community," he adds. "The city officials and the economic development people here are great to work with."
When asked what advice he would offer to business executives in other parts of the country, Oldham said: "This seems to be the place that everyone wants to come to. It is getting a lot of looks from people all over the country. For us, it was a strategic decision. Our people are our biggest strength. Pflugerville is very attractive to our current employees and our future talent."
View full story on Site Selection HERE